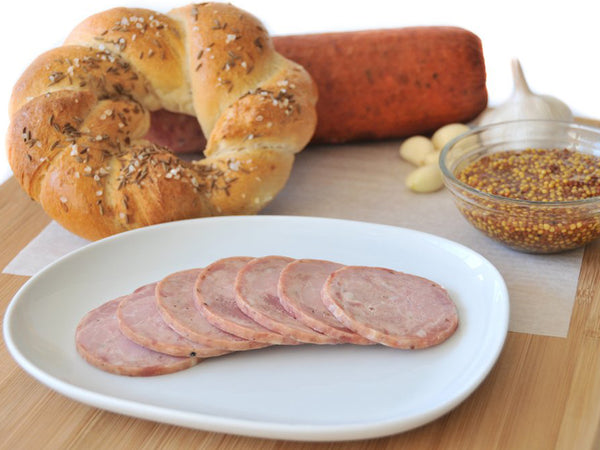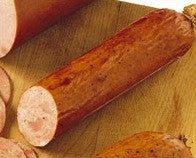 Smoked Sausage for Beer - Żywiecka Sausage
This sausage originated in the Żywiec mountain area in the southern part of Poland, known for its adherence to time-honored traditions. It is a firm, nicely marbled sausage made of top-quality diced pork. It is seasoned with salt, pepper and garlic and hardwood-smoked to bring out all its savory, succulent goodness. It slices beautifully, making it an ideal cold cut for sandwiches. It is also delicious warm, fried with onions or scrambled eggs. It can be diced and added to sauerkraut, stews, casseroles and- yes!– even spaghetti sauce, or used as a delightful pizza topping. It also makes a great addition to cooked dishes, often used, for example, in making classics like the Polish Hunter's Stew/Bigos. It's also great enjoyed cold with a bit of horseradish cream or mustard and a side of Polish pickles and classic Polish rye bread!
Weight: approx 1.2lb
Ingredients
Pork, water, salt, salt, natural flavors, sugar, garlic, non fat dry milk, sodium nitrite, collagen casings

How to defrost
In order to guarantee their quality, great taste and safety, all deli meats are stored frozen in Polana's warehouse and are shipped in frozen condition to customers around the U.S. in a specialty shipping container with a cooler and dry ice. If you ordered a deli product from Polana.com, it will arrive to you frozen. Upon receiving your package, if you do not wish to enjoy these foods right away, please place the products back in the freezer immediately. Once you are ready to enjoy your deli meats from Polana, simply remove them from the freezer and place them in your refrigerator to thaw. Allow the meats about 12 hours to come back to their original texture, taste and condition.
If you ordered a pre-cooked or smoked meat - it is ready to enjoy! Try it cold or build it into your favorite dishes!
If you ordered our fresh biala or blood sausages please reference the cooking instructions on the product pages to see how best to prepare and enjoy these meats. 
Smacznego!