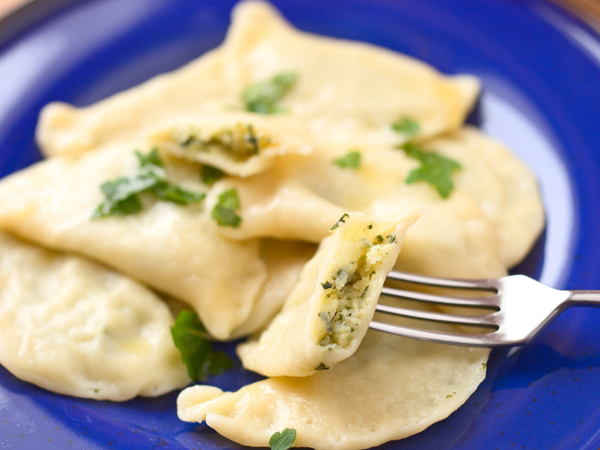 Gluten Free Vegan Potato & Dill Pierogi
Potato-filled pierogi are a favorite type of pierogi variety! Enjoyed on an everyday basis and during special occasions like holidays, potato pierogi are loved and enjoyed by all! This gluten free variety are healthy and light, and just right for a vegan diet. Made of a gluten-free, alternative dough and filled with a fluffy mashed potato & dill mixture they are refreshing take on the classic potato pierogi variety. These pierogi are based on traditional Polish recipes, produced in a dedicated 100% gluten-free facility with the use of the highest quality, whole food ingredients and utilizing a flour blend sourced from Bob's Red Meal. These delicious pierogi will truly impress your tastebuds!
Manufactured by: Old World Gluten Free LLC in Michigan.
Weight: 12 pierogi per package. approx 1lb
Ingredients
Potato, water, garbanzo bean flour, sweet white rice flour, tapioca flour, Non GMO/RBD canola oil, Non GMO vegetable oil spread ((Palm Fruit, Canola, and Olive Oils), Water, Salt, Contains Less than 2% of Natural Flavor, Sunflower Lecithin, Lactic Acid, Annatto Extract), xanthan gum, salt, dill weed, guar gum.

*Flours used are packaged in a facility that uses tree nuts and soy.

Cooking Instructions
Gluten-Free pierogi are little bit denser in texture and need slightly longer cooking time. To cook these gluten free pierogi, add them in their frozen condition to a pot of boiling water and cook on medium heat for about 6-7 minutes, or until dumplings rise to the top. Then, if you would like, you can fry them in butter for 5-6 minutes per side.

As another option you can also allow the pierogi to thaw at room temperature and then fry on a skillet in butter for 5-6 minutes per side. Best served with traditional toppings such as: sour cream, fried onion, fried bacon or bread crumbs.
Smacznego!