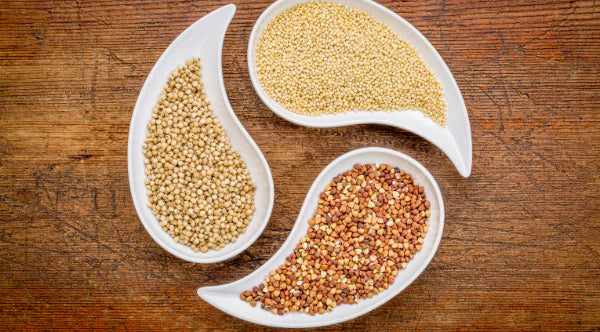 Polish Noodles & Grains – Polskie Kasze i Makarony
Poland could be recognized for its numerous varieties of groats in much the same way that Italy is known for its pastas! Ancient grains have been a part of Polish cuisine since at least as early as the middle ages (and probably long before then too!). For centuries, the pantries of both the peasantry and the aristocracy were always stocked with these grains, which were used for a large variety of Polish dishes. In fact, groats were the original pierogi filling! Buckwheat, pearl barley, semolina, amaranth, millet and many other varieties continue to be utilized in Polish dishes today. They are not only great for stuffing classic Polish foods such as cabbage rolls or poultry roasts, they also make a great side to any meal, and they are highly nutritious, light, and easily digestible!…and when it comes to pasta, the Italians are not the only ones who enjoy their homemade noodles!
The Poles also enjoy their "makaron" (Polish for "pasta"). Primarily consumed with Poland's large variety of soups, topped with hearty meat sauces or enjoyed with a sweet fruit sauce in springtime or summer, Polish noodles are an important part of classic Polish cuisine. We've put together a variety of these traditional Polish groats and pastas on Polana.com, perfect to give your Polish dishes that classic Polish taste.
If you have any questions, please contact us via e-mail at service@polana.com.
Smacznego!
Polana