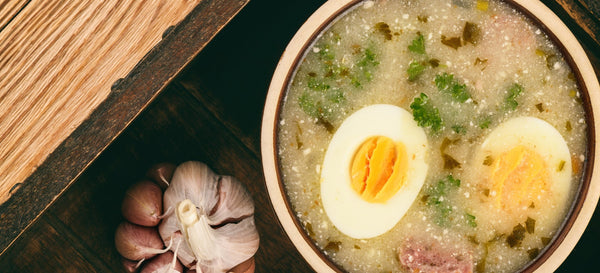 Soups – Zupy
Rosół, Grzybowa, Barszcz, Żurek….How many different soups are there on Poland's menu? The exact number is hard to pinpoint but one thing is for sure, soup is an integral element of Polish cuisine. A traditional Polish dinner consists of two entrees - a soup to start and a main course. That goes for everything from an everyday dinner to a special occasion meal. True Polish custom calls for at least one bowl of soup per day.  When you add it all up that comes to about 3.8 million liters of soup consumed in Poland every year! 
Considering the delicious variety of Polish soups, we think this particular custom is worth sticking to! That's why we offer a great selection of Polish soups over at Polana.com! When you don't have the time to make your favorite Polish soups from scratch, you can select from Polana's wide selection of instant soup options. From zurek to mushroom soup or red borscht, these instant containers, cups and packets provide all the flavor and warmth of a traditional Polish soup. 
If you have any questions, please contact us via e-mail at service@polana.com.
Smacznego!
Polana