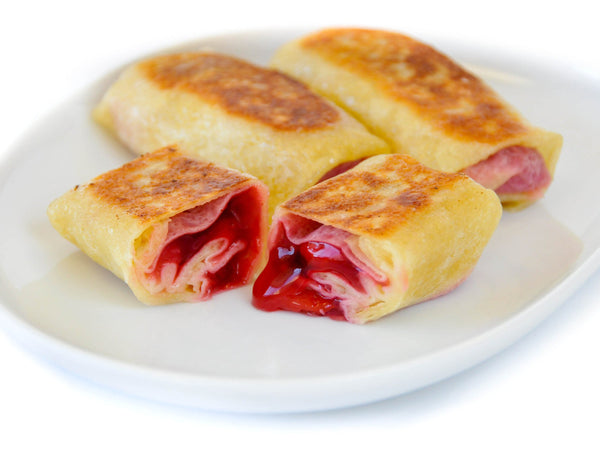 Everyone loves blintzes – and we are sure you will love our blintzes that are made with that old country flavor and quality. Our delicate golden crepes are handmade from scratch with all natural and fresh ingredients. With no preservatives added, all of our blintzes are Kosher as well! We are sure you will enjoy them as much as we do!
Weight: 6 cheese blintzes per package, 1 lb.
Ingredients

Cherry filling (cherries, sugar, water, modified corn strach, citric acid, potassium sorbate, agar, carrageenan, palm oil shortening, natural and artifical cherry flavor), enriched wheat flour (wheat flour, malted barley flour, niacin, iron, thiamine mononitrate, riboflavin, folic acid), liquid whole eggs, water, low fat milk, soybean oil, potato starch, egg whites, salt.
Cooking Instructions
For Best Quality allow the blintzes to thaw. Then, preheat a skillet with 3 - 4 tbsps. Of butter or oil and fry the blintzes on LOW heat until golden brown on both sides.

Allow the blintzes to thaw. Preheat oven to 350º F. Brush blintzes with a bit of cooking oil. Heat approximately 5-10 minutes fresh. 10-15 minutes if frozen.

- Enjoy these blintzes with a dab of sweet cream: mix 2 tsps. of sugar with a quarter cup of sour cream.
- Enjoy sprinkled with a bit of powdered sugar
- Try with a side of our sour cherry fruit preserves.
Pairs well with Lowicz KONFITURY (sour cherry).
Smacznego!