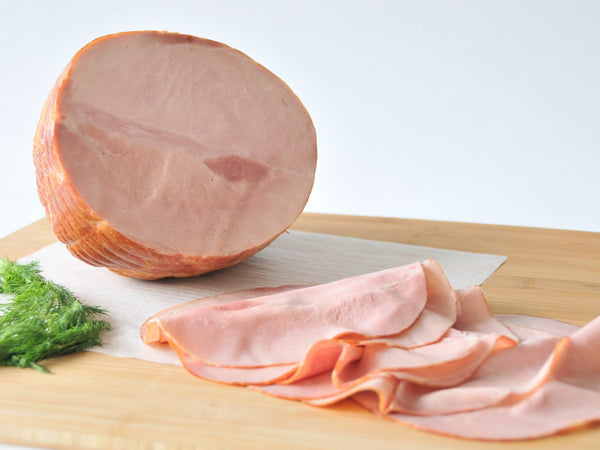 Homemade Boneless Smoked Ham - Szynka Domowa - Sliced
Lightly smoked and fully cooked to perfection, this ham is full of bold flavor. There is no bone or excess fat so you can enjoy every ounce of this tender, juicy and truly exceptional ham. Product comes ready to serve. Enjoy it in thin slices on a sandwich, cut it into thicker pieces for a charcuterie board or add it to your favorite salads or cooked dishes!
Weight: approx 0.5lb
Ingredients
pork ham, pork ham cure solution (water salt, sodium phosphate), meat cure (salt, 6.25% sodium nitrite), sugar, liquid seasoning (maggie), water, salt, wheat (gluten, sugar, bran), acetic acid, caramel color, artificial flavor, disodium inosinate, disodium guanylate, dextrose monohydrate, yeast, flavormost (salt, sugar, 18.1% monosodium glutamate, dextrose, spice extractives (natural flavor)).
How to defrost
In order to guarantee their quality, great taste and safety, all deli meats are stored frozen in Polana's warehouse and are shipped in frozen condition to customers around the U.S. in a specialty shipping container with a cooler and dry ice. If you ordered a deli product from Polana.com, it will arrive to you frozen. Upon receiving your package, if you do not wish to enjoy these foods right away, please place the products back in the freezer immediately. Once you are ready to enjoy your deli meats from Polana, simply remove them from the freezer and place them in your refrigerator to thaw. Allow the meats about 12 hours to come back to their original texture, taste and condition.
If you ordered a pre-cooked or smoked meat - it is ready to enjoy! Try it cold or build it into your favorite dishes!
If you ordered our fresh biala or blood sausages please reference the cooking instructions on the product pages to see how best to prepare and enjoy these meats. 
Smacznego!