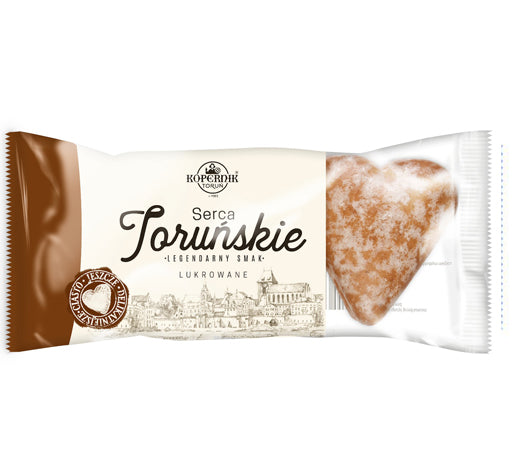 Kopernik - Gingerbread Hearts (Serca Toruńskie)
The Polish gingerbread that hails from the medieval city of Toruń is a local sweet with a more than 700-year-old tradition! The Toruń gingerbread is know and loved around the world! Today it comes in many varieties but these Toruń Hearts (Serca Toruńskie®) are particularly well known and adored by lovers of Gingerbreads from Toruń. The soft, delicate dough is made with the addition of eggs making it thicker and fluffier in taste. With a sweet icing covering the outer layer, these cookies offer a delicious, classic gingerbread taste! All this comes in an aesthetic package featuring the motifs of Toruń's old town. A great treat that brings all the taste and sentiment of Polish history and tradition right to your home!
These Toruń Heart gingerbread cookies can also makes for a beautiful gift and treat for someone you love! 
Weight: 120g 
Ingredients
Sugar, wheat flour, rye flour, color (caramel), raising agent (ammonium carbonates), powdered eggs, thickening agent (gum arabic), spices, glucose syrup, salt, acidity regulator (citric acid).
May contain: milk, soy and peanuts.