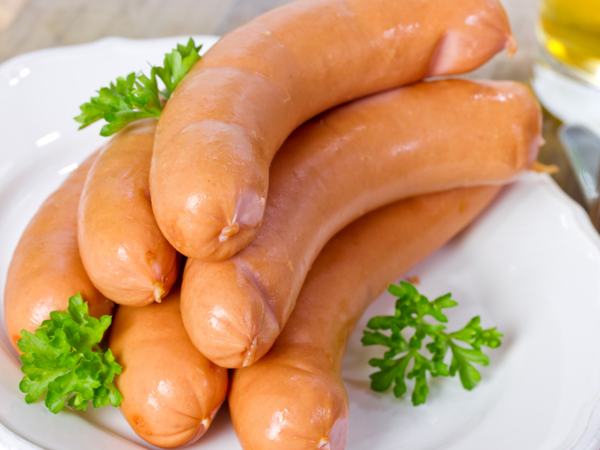 Parówki Sausage - Breakfast Wieners
One of the most popular foods typically found on the Polish breakfast table are "parówki"("parówka" singular). These light Polish sausage links have a fine texture and taste. Similar to a hot dog but softer in taste, they are traditionally boiled in hot water and often served for breakfast with a side of scrambled eggs. When they are placed on the plate they are known to emit steam ("para" in Polish) and thus the name, "parówka." These parówki/wieners are made according to a classic Polish recipe. They contain only select cuts of veal and pork, ground very fine, gently seasoned and lightly smoked. The result - a "parówka" that is meaty, delicately flavored and downright delicious!
Though parówki are most commonly enjoyed for breakfast, they can also make a great lunch or supper meal. Enjoy them with a slice of your favorite Polish bread and condiments!
Weight: approx 1lb
Ingredients
Veal & pork, water, salt, non fat dry milk, hydrolyzed milk protein, natural flavors, dextrose, sodium phosphates, monosodium glutamate, gelatin, sodium nitrite, sheep casing

How to defrost
In order to guarantee their quality, great taste and safety, all deli meats are stored frozen in Polana's warehouse and are shipped in frozen condition to customers around the U.S. in a specialty shipping container with a cooler and dry ice. If you ordered a deli product from Polana.com, it will arrive to you frozen. Upon receiving your package, if you do not wish to enjoy these foods right away, please place the products back in the freezer immediately. Once you are ready to enjoy your deli meats from Polana, simply remove them from the freezer and place them in your refrigerator to thaw. Allow the meats about 12 hours to come back to their original texture, taste and condition.
If you ordered a pre-cooked or smoked meat - it is ready to enjoy! Try it cold or build it into your favorite dishes!
If you ordered our fresh biala or blood sausages please reference the cooking instructions on the product pages to see how best to prepare and enjoy these meats. 
Smacznego!