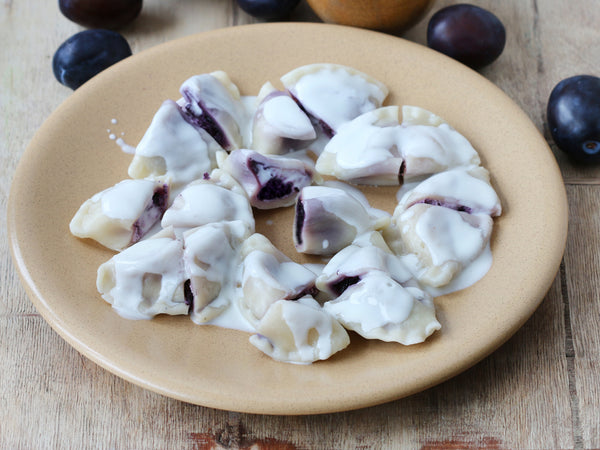 Among the multitude of Poland's pierogi flavors, are sweet, fruit-filled varieties. Though these are typically enjoyed during the summer, there are a few flavors that are just right for fall too! This plum filled variety is just that! Enjoy a plateful of these juicy pierogi filled with fresh plums! Reheat them according to our cooking instructions (click the cooking instructions tab to view) and enjoy them with some melted butter and brown sugar on top for a perfect Fall treat! You can also try them with a bit of sour cream blended with sugar or try them with a drizzle of Polish honey and a sprinkle of roasted walnuts! However, you choose to accent their Fall flavor, these plum pierogi are sure to sweeten a chilly, golden Fall day. 
Weight: 10 pierogi per package. approx 1lb.
Ingredients
Fresh plums, enriched wheat flour (wheat flour, malted barley flour, niacin, iron, thiamine mononitrate, riboflavin, folic acid), water, liquid whole eggs, egg white, soybean oil, potato starch, sugar, salt.
Nutrition Facts
6 Servings per container, Serving Size: 2 Pierogi (80g), Amount per serving: Calories 142, Total Fat 2g (3% DV), Sat Fat 0g (0% DV), Trans Fat 0g (0% DV), Cholesterol 10mg (3% DV), Sodium 30mg (1% DV), Total Carb. 28g (9% DV), Fiber 1g (4% DV), Total Sugars 6g, Protein 3g, Vitamin A 2%, Vitamin C 10%, Calcium 0%, Iron 4% *Percent Daily Values (DV) are based on a 2,000 calories diet. Your daily values may be higher or lower depending on your calorie needs.
Cooking Instructions
For Best Quality, quicker prep time and a classic taste, heat 3-4 qtrs. of water in a pot and bring to a slow boil. Add a tsp. of salt for taste. Place frozen pierogi in boiling water and cook uncovered for 2 to 3 minutes or until they rise to the top. Stir occasionally, and drain thoroughly once done. Do not overcook.
IMPORTANT: Overcooking will decrease the quality of the dough.
Option: Once the pierogi have cooked, and have been thoroughly drained, you can fry them on a pan for a crispy taste. Place pierogi on a skillet with a bit of oil and fry on low heat until evenly brown on both sides.

For Best Quality and a crunchy taste, take pierogi out of the freezer and allow them to thaw for about 3-4 hours (As a faster option you may also defrost in the microwave, but this is a less healthy option). Once the pierogi have thawed, place them evenly in a skillet with a bit of oil and 3 to 4 tbsp. of water on low heat and turn occasionally to brown evenly on both sides.
IMPORTANT: Make sure to keep on low heat as you fry the pierogi as high heat toughens the dough.

Plum Pierogi serving tips:
Classic: Melt a quarter cup of butter in a skillet over low heat. Drizzle over the pierogi and toss them to ensure butter is evenly distributed. Top with a small amount of brown sugar OR enjoy with a side of sweetened sour cream: mix 2 teaspoons of sugar with a quarter cup of sour cream and toss a dab of the sweet cream over your plate of pierogi.
Enjoy with a Fall Flavor: drizzle pierogi with some Polish honey and top with some crumbled roasted walnuts. Heat the walnuts on a pan before adding on top of pierogi for an extra, toasty taste.
Smacznego!