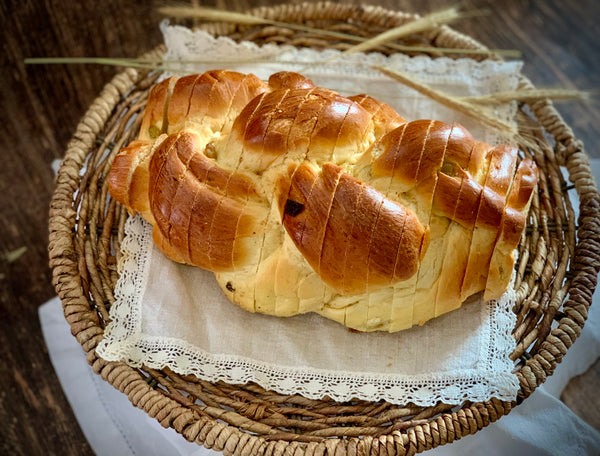 Polish Challah with Raisins
A variation of the Jewish challah bread, the chalka is a sweet Polish yeast bread that's braided in the shape of a loaf and filled with dried fruit. The bread can be eaten plain or with preserves or jam!
Weight: approx 1.7lb. Bread comes sliced.
Ingredients
Enriched wheat flour, margarine, sugar, vanilla, eggs, raisins, lemon emulsion, salt, yeast.
How to defrost
Remove bread from the freezer and leave at room temperature for up to six hours. You can also place bread in the refrigerator for up to 12 hours. Always leave the bread wrapped while it thaws.
Defrost bread in the oven. Preheat the oven to 325 degrees Fahrenheit. Remove the plastic wrap if used when initially freezing the bread. Wrap the loaf tightly in aluminum foil. Place bread in the oven for 20 to 30 minutes.
Remove pre-sliced pieces of bread from loaves in the freezer. You can "snap" off a slice or two from the pre-sliced loaf. Simply reseal and replace the remainder of the loaf in the freezer. Toast the slices for quick defrosting and browning.
Smacznego!