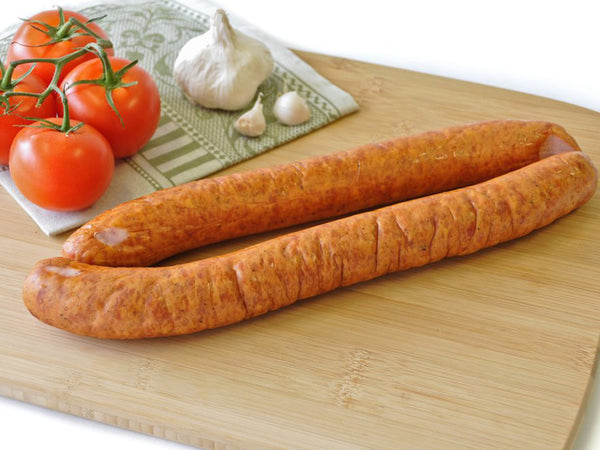 Standard Polish Sausage - Zwyczajna
In Polish cuisine, it seems that there is an almost infinite number of different sausages. Called "kielbasa," in Polish, each kind is made according to different recipes, with varying amounts of spices, garlic, salt, pepper and smoked with various techniques. From national to regional and even family favorites, there's truly a lot to sample when it comes to the variety of kielbasa in Poland!
However, if there were ONE, standard, national kielbasa, it would be the kielbasa called, "Zwyczajna," (that translates to "regular" or "every-day"). Cooked and smoked, this "regular" polish sausage is made according to the most basic of all and the most popular Polish sausage recipes. It's a standard that was developed in the 70's. It's the balanced aroma, high content of spices like marjoram, garlic and black pepper and higher amount of fat that make this sausage a very tasty and commonly consumed sausage in Poland and Polish communities around the world. Zwyczajna has light color and mild, smokey flavor, along with a fine texture. It is finely ground, juicy and has a delicate casing so it is great to serve grilled, but also perfect for cooking with sauerkraut, pan frying and poaching.
It can also be great when enjoyed cold with a bit of mustard and can make a great addition to sauerkraut or classic Polish recipes and breakfasts.
Weight: 2 links, approx 1.5lb
Ingredients
Pork, water, salt, sugar, garlic, celery seeds, non fat dry milk, marjoram, black pepper, sodium nitrite

How to defrost
In order to guarantee their quality, great taste and safety, all deli meats are stored frozen in Polana's warehouse and are shipped in frozen condition to customers around the U.S. in a specialty shipping container with a cooler and dry ice. If you ordered a deli product from Polana.com, it will arrive to you frozen. Upon receiving your package, if you do not wish to enjoy these foods right away, please place the products back in the freezer immediately. Once you are ready to enjoy your deli meats from Polana, simply remove them from the freezer and place them in your refrigerator to thaw. Allow the meats about 12 hours to come back to their original texture, taste and condition.
If you ordered a pre-cooked or smoked meat - it is ready to enjoy! Try it cold or build it into your favorite dishes!
If you ordered our fresh biala or blood sausages please reference the cooking instructions on the product pages to see how best to prepare and enjoy these meats. 
Smacznego!