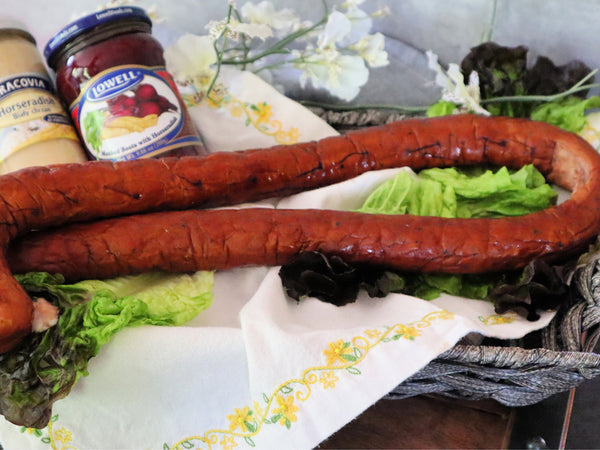 Peasants' Sausage - Chłopska Kielbasa
Perhaps no better part of Poland offers great tasting kielbasa than the countryside. This Chłopska Kielbasa (a peasants' sausage) has the classic elements of old folk traditions. Though it seems a bit forgotten, this traditional sausage, simple in its composition delights with its taste and aroma. Peasant sausage is a traditional product that was made in the villages of Poland before the 19th century. These large double links, made of pork are filled with aromatic, fresh garlic and are a bit fattier than the standard Polish kielbasa. The sausage is not dried and has a very juicy flavor. Its taste carries all the sentiments of the beautiful Polish countryside.
Weight: approx 1lb
Ingredients
Pork, water, salt, sugar, fresh garlic, black pepper

How to defrost
In order to guarantee their quality, great taste and safety, all deli meats are stored frozen in Polana's warehouse and are shipped in frozen condition to customers around the U.S. in a specialty shipping container with a cooler and dry ice. If you ordered a deli product from Polana.com, it will arrive to you frozen. Upon receiving your package, if you do not wish to enjoy these foods right away, please place the products back in the freezer immediately. Once you are ready to enjoy your deli meats from Polana, simply remove them from the freezer and place them in your refrigerator to thaw. Allow the meats about 12 hours to come back to their original texture, taste and condition.
If you ordered a pre-cooked or smoked meat - it is ready to enjoy! Try it cold or build it into your favorite dishes!
If you ordered our fresh biala or blood sausages please reference the cooking instructions on the product pages to see how best to prepare and enjoy these meats. 
Smacznego!