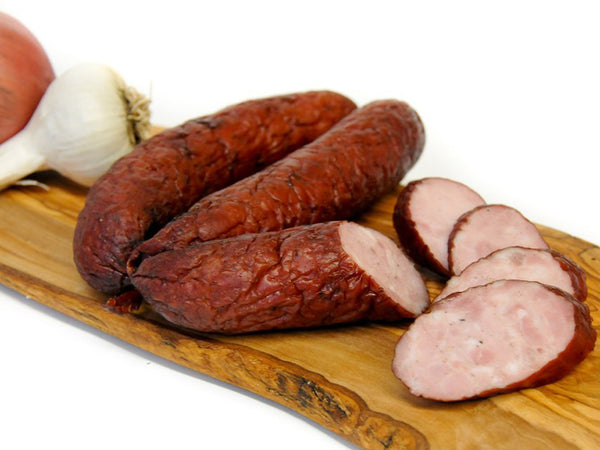 Hunter's Sausage - Myśliwska
This is a smoked, dried, firm and full-bodied sausage made from select cuts of pork and beef and flavored with a hint of juniper, giving it a delicious taste! This type of sausage undergoes a drying process which removes excess moisture (typically the main reason for spoilage). As its name suggests, this sausage was eagerly taken into the wilds by hunters, fishermen and other outdoorsmen. The only other things they needed to keep the body full and warm the soul was some good Polish rye bread and a nip of jalowcowka (a juniper vodka similar to gin). Whether or not you're a hunter, Polish Mysliwska sausage will surely become one of your favorites! A great smoked sausage to enjoy during fall and winter, and a perfect addition to hearty stews, warming soups, and a key ingredient of the famous Polish "Bigos" (otherwise known as "Hunter's Stew!").
This sausage does not require refrigeration.
Weight: 4 links, approx 1.5lb.
Ingredients
Pork, beef, water, natural spices mix, salt, black pepper, sodium nitrite

How to defrost
In order to guarantee their quality, great taste and safety, all deli meats are stored frozen in Polana's warehouse and are shipped in frozen condition to customers around the U.S. in a specialty shipping container with a cooler and dry ice. If you ordered a deli product from Polana.com, it will arrive to you frozen. Upon receiving your package, if you do not wish to enjoy these foods right away, please place the products back in the freezer immediately. Once you are ready to enjoy your deli meats from Polana, simply remove them from the freezer and place them in your refrigerator to thaw. Allow the meats about 12 hours to come back to their original texture, taste and condition.
If you ordered a pre-cooked or smoked meat - it is ready to enjoy! Try it cold or build it into your favorite dishes!
If you ordered our fresh biala or blood sausages please reference the cooking instructions on the product pages to see how best to prepare and enjoy these meats. 
Smacznego!