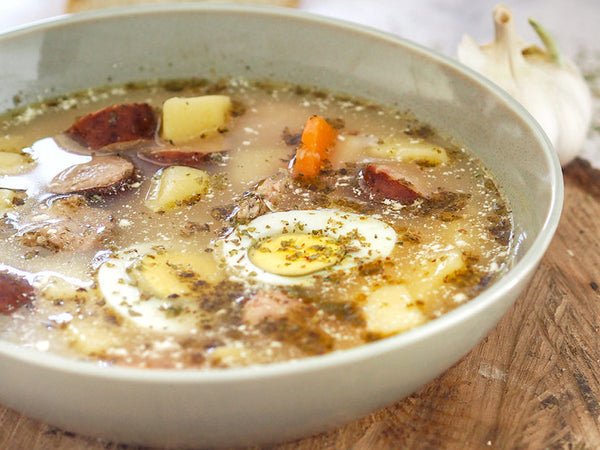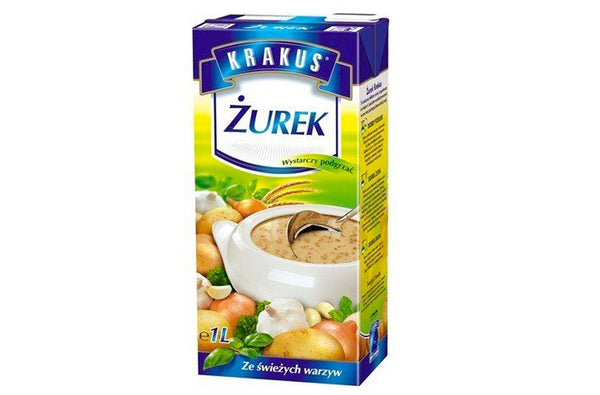 Krakus Ready-to-Eat Polish Sour-Rye Soup - Zurek
With a rich and creamy base of wheat and rye flour, this Polish soup comes ready to be enjoyed with your favorite ingredients. Simply pour the soup into a pot and add your favorite blend of veggies and meats - mushrooms, cooked sausages, carrots and/or potatoes and season with a bit of marjoram, salt, pepper or your favorite blend. Pour over a halved boiled egg and enjoy with a slice of Polish artisan bread and butter.
Pairs well with:
Weight: 1lb (33.8oz)
Nutrition Facts
Per 1 cup (250mL): Calories 60, Fat 2g (3% DV), Sat Fat 0g (0% DV), Trans Fat 0g, Carbs 9g, Fiber 2g (7% DV), Sugars 4g (4% DV), Protein 1g, Cholesterol 0mg, Sodium 1300mg (57% DV), Potassium 0mg 0%, Calcium 0mg 0% Iron 1mg 6% *5% or less is a little, 15% or more is a lot *The % Daily value (DV) tells you how much a nutrient in a serving of food contributes to a daily diet. 2,000 calories a day is used for a general nutrition advice.