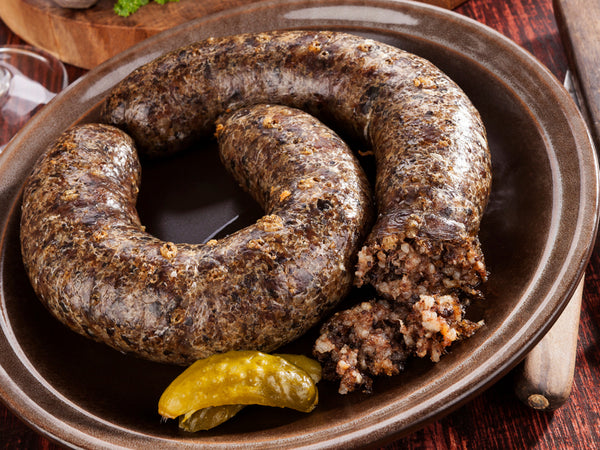 Beef Blood Sausage - Kiszka/Kaszanka
Blood sausage is a popular deli product in Poland! Often enjoyed panfried with onion it's a hearty specialty enjoyed for breakfast, as a midday snack or as a cocktail appetizer. This type of sausage is referred to as "kiszka" or "kaszanka" in Polish and it is known for its unique and flavorful taste. This Kiszka product from Polana is sure to meet those traditional standards. Stuffed with a filling made from a combination of meat and grain it has a very hearty yet delicate and unique flavor. We guarantee this product is made according to an authentic Polish recipe and meets the highest quality standards.
Weight: approx 1lb
Ingredients
Barley, pork jowls, pork skins, pork livers, beef blood, salt, natural flavor, onions, dehydrated vegetables (carrots, celery, parseley), sugar, monosodium, glutamate, corn starch, disodium inosinate, riboflavin (for color), stuffed into natural beef casings

How to defrost
In order to guarantee their quality, great taste and safety, all deli meats are stored frozen in Polana's warehouse and are shipped in frozen condition to customers around the U.S. in a specialty shipping container with a cooler and dry ice. If you ordered a deli product from Polana.com, it will arrive to you frozen. Upon receiving your package, if you do not wish to enjoy these foods right away, please place the products back in the freezer immediately. Once you are ready to enjoy your deli meats from Polana, simply remove them from the freezer and place them in your refrigerator to thaw. Allow the meats about 12 hours to come back to their original texture, taste and condition.
If you ordered a pre-cooked or smoked meat - it is ready to enjoy! Try it cold or build it into your favorite dishes!
If you ordered our fresh biala or blood sausages please reference the cooking instructions on the product pages to see how best to prepare and enjoy these meats. 
Cooking instructions
Once your kiszka sausage has fully thawed in the fridge, it's time to cook it and enjoy! There are a number of ways to enjoy this traditional Polish meat. A few of the most common preparations include grilling it outdoors, frying on a skillet, baking in the oven or building into a sandwich. See this blog article for detailed instructions on how to prepare your kiszka from Polana according to any one of these methods!
We also highly recommend enjoying this blood sausage hot off the grill in the summer. When preparing the Kiszka, do not pierce the skins. Cook over a low flame using a gas grill, and cook slowly to prevent the skins from bursting. For a charcoal grill, wait until the charcoal has some white ash and is not too hot. You can cook with your grill's lid down to heat the sausages through. Enjoy with fresh sauerkraut & mustard!
Smacznego!