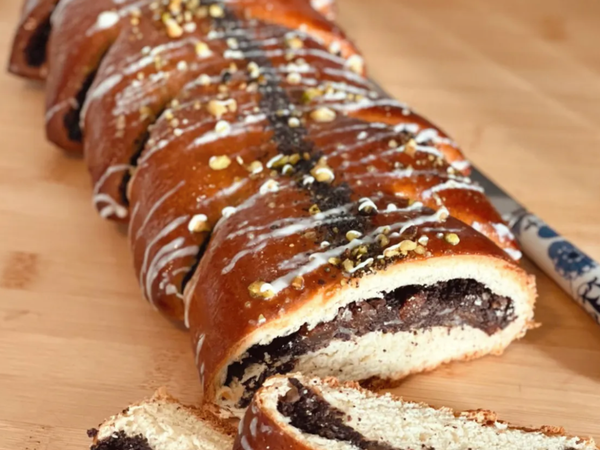 Try this sweet Polish yeast bread filled with Poland's most iconic sweet confection - a poppy seed paste combined with nuts & raisins (bakalie)! A road loaf of wheat cake topped with a sugar glaze and crumble crust, this is a Polish sweet historically prepared for holidays and special occasions like weddings, particularly in Poland's countryside! Still a favorite Polish dessert to this day, it makes for a wonderful cake to share with family and friends at gatherings and serves as a great everyday coffee cake! 
Weight: 2.2lb
Ingredients
flour, milk, eggs, salt, sugar, butter, yeast, poppyseed, walnuts, gold raisins, orange peel, honey, almond emulsion, orange emulsion
How to defrost
Polana's bakery products are shipped in frozen condition to preserve their good quality and great taste! When you are ready to enjoy your poppy seed roll from Polana.com, simply place the cake on plate on the kitchen counter and allow it to thaw out for about 6-12 hours, or leave out overnight (it will be ready to enjoy by morning!). Always keep the cake wrapped while it thaws.
Smacznego!