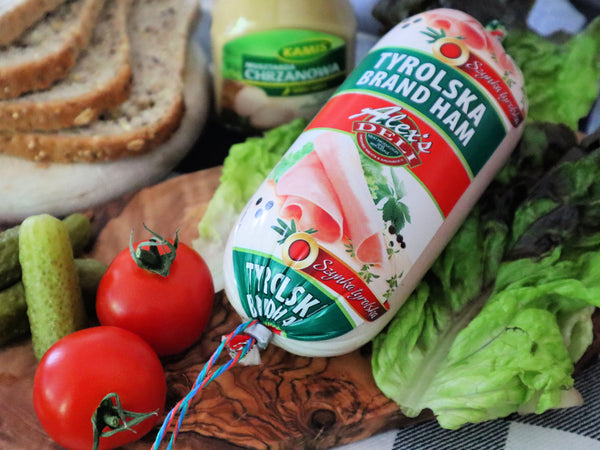 This Tyrolska Ham called "szynka tyrolska" in Polish is one of the most popular Polish luncheon meats! Cold-smoked it is characterized by a light and delicate flavor. Cut into thin slices it is great enjoyed as part of a cold sandwich with a bit of mustard or horseradish sauce. Cut into larger pieces it can also be a great addition to a salad or charcuterie board!
Weight: 1lb
Ingredients
Ham cured with a solution of water, meat binder, carrageenan, salt, sodium phosphate, dextrose, less than 2% sodium lactate, sodium diacetate, sodium erythorbate, spices, seasoning, sodium nitrite. stuffed in a plastic casing.

How to defrost
In order to guarantee their quality, great taste and safety, all deli meats are stored frozen in Polana's warehouse and are shipped in frozen condition to customers around the U.S. in a specialty shipping container with a cooler and dry ice. If you ordered a deli product from Polana.com, it will arrive to you frozen. Upon receiving your package, if you do not wish to enjoy these foods right away, please place the products back in the freezer immediately. Once you are ready to enjoy your deli meats from Polana, simply remove them from the freezer and place them in your refrigerator to thaw. Allow the meats about 12 hours to come back to their original texture, taste and condition.
If you ordered a pre-cooked or smoked meat - it is ready to enjoy! Try it cold or build it into your favorite dishes!
If you ordered our fresh biala or blood sausages please reference the cooking instructions on the product pages to see how best to prepare and enjoy these meats. 
Smacznego!